Let's just face it – you were lame if you didn't own a Starter Jacket.  I can remember the exact day when I realized that my blue Air Force replica coat just wasn't going to cut it.  It was in the fourth grade and even a girl who never talked to me went out of her way to make fun of my lack of officially licensed sports apparel.  What was a guy to do?  I mean, Christmas didn't roll around for another couple months and I wasn't going to be caught dead in that nerdy knock-off military jacket.  Literally overnight, the faux badges and stripes that adorned my outerwear stood for "dork" and "social outcast" instead of "valor" and "honor" as they once had.  So, unbeknown to my parents, I coatlessly bared the Ohio December until that glorious morning where I opened the wrapping paper of my very own Cleveland Indians pullover.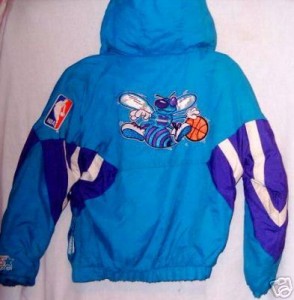 The funny thing about Starter Jackets was that the team on the jacket was a (distant) second priority to how cool the jacket actually looked.  Usually the rule of thumb on coolness was the brighter the color, the more badass you looked.  Hence the popularity of the Charlotte Hornets or the Anaheim Mighty Ducks.  Of all my friends who rooted for Northeast Ohio sports clubs, I was the only one who wore the home team (and only because that was the one my dad could justify buying for me.)  The teams my friends had ranged from the Washington Redskins, Georgetown Hoyas, Pittsburgh Penguins (this guy wasn't even a hockey fan), Chicago Bears, Florida State Seminoles and the aforementioned almighty Hornets and Ducks.  And this was just on one playground!
Adding to the mystique of the Starter Jacket (much like Air Jordan's before them) were the stories you would hear about kids out in California or New York City getting mugged for them.  All of a sudden wearing a Chief Wahoo pullover was living a life of danger.  One had to have his utmost awareness while rocking the Starter (and thank god these stories hit the local newspaper AFTER I had secured my pullover, because that would have been the last straw for my mother.)
Once other companies got wind of how successful Starter was doing with their outerwear apparel, the knock-offs starting hitting the school yard.  Brands like Majestic and Logo Athletic might have been able to fool the parents who were doing the purchasing, but kids on the playground knew you weren't wearing a Starter.  Hey, I didn't make the rules, I just played by them!
Remember Starter Jackets! ?