By the time the late 80's rolled around, skateboarding, surfing and other "alternative" lifestyle activities had had a few years to thrive in Southern California cities and were beginning to permeate the suburbs and mainstream culture.  By 1988, Nintendo (like in all other aspects of tweenlife) had a big hand in this – and the following three NES games are great examples.
Also around this time, gaming companies started to discover additional revenue streams by allowing clothing and general culture brands to advertise within the actual video games. The alternative gaming community was a perfect fit for these licensing deals because it allowed for SoCal fringe brands like Ocean Pacific and Oakley to get their name out to a wider audience, while also adding authenticity to the video games. The first cartridge of this type that transcended gamer culture was 1987's Skate or Die:
Skate or Die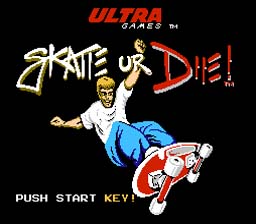 Skate or Die's main premise borrowed from the overriding ethos of the skating community: build up your chops to prove to everyone in your neighborhood that you aren't a poseur (it even contains a character named Poseur Pete who challenges beginners to skate duels.)  Konami and Ultra Games were able to take a tongue in cheek approach to the "Locals Only" attitude and turn it into the plotline of this NES classic.  Looking back, some of the gameplay is a little archaic but it really set the precedent for skating video games.
Another game in the same category (who owed a lot of its functionality and features to Skate or Die) was T&C Surf Design:
T&C Surf Design: Wood and Water Rage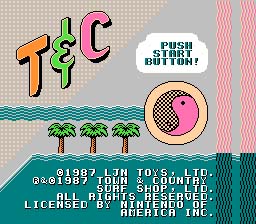 If 8-bit skateboarding wasn't enough for you in 1988, LJN, Ltd. had your back.  They put out their alternative sports game that combined the skating elements of Skate or Die with surfing. Released to overall mixed reviews, this game is one of my all-time personal favorites. Fully licensed by the Hawaiian Town & Country Surf company this game was both fun to play and challenging. The game featured four of T&C's characters: Joe Cool, Tiki Man, Kool Kat, and Thrilla Gorilla. Both aspects of gameplay were a left-to-right scrolling obstacle course of sorts. A lot of my friends lacked the patience to figure out the surfing portion, but my due-diligence and massive amounts of free time allowed me to get the surfing down to a science (I believe the key was holding down left D-pad.) There is definitely something to cutting waves with a fat-ass gorilla.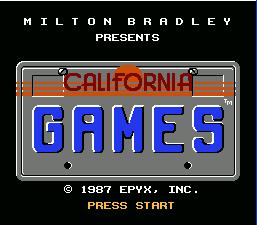 California Games
Another one of my favorite NES games.  This one had a Olympic sort of feel, featuring seven different alt sporting events.  The different competitions ranged from the usual alternative fare of skating, surfing, and BMX (this was awesome) to more patchouli smelling events like "footbag" and "flying disc."  The highlight of this game is the rare diving catch in the frisbee event (or also the funnier version of the diving catch – the "ol' dive too early and when the camera pans along with the frisbee your reciever is laying on the ground with both feet in the air.")  This game was a lot of fun to compete with friends and was what sleepovers were made for.
I can't say that these games are a big reason for the popularity of extreme sports today, but there may be a couple  X-Games participants who got their starts with one of these three – but I guess the rest of us really are just poseurs.
Remember Rad!: Nintendo & The "Alternative Lifestyle" ?
2 Responses to "Rad!: Nintendo & The "Alternative Lifestyle""
Leave a Reply
You must be logged in to post a comment.